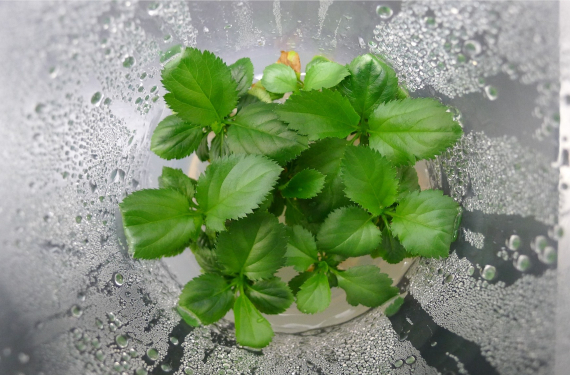 High quality propagation material is the foundation of horticultural plant production. The woody plant and propagation physiology section's research areas are principles and optimisation of propagation, especially vegetative propagation and in-vitro propagation. We're working on projects to explore the drought stress reaction of potatoes. A particular research topic are replant diseases on apples and other rosaceous plants. The majority of our research projects are collaborative projects with national and international partners from research institutions and universities as well as horticultural companies and associations.
APPLE REPLANT DISEASE
When apple is repeatedly grown on the same soil, this results in apple replant disease causing severe growth depressions and drastically reduced quality of plants and fruits. Young plant propagation in nurseries as well as apple fruit production takes place in certain areas in which crop rotation or changing sites are no options. Chemical or thermal soil disinfection is neither environmentally friendly nor economically feasible. Within our BMBF funded joint project BonaRes–ORDIAmur, we intend to unravel the causes of apple replant disease and to develop strategies to overcome it. Furthermore, in projects funded by the DFG, we study the molecular responses in apple roots in replant soils in detail in order to identify the causes for the susceptibility to the replant disease.
IN VITRO CULTURE TECHNIQUES
Plant in vitro culture offers several unique opportunities in propagation and breeding of horticultural crops. However, up to now the potential is not fully tapped due to different problems. Among them, endophytic bacteria (bacteria living within plant tissue) are of special importance. In the past, they were considered as unwanted contaminations, whereas we try to understand how to prevent certain groups to prevail or how to enhance beneficial endophytes. In somatic embryogenesis, we aim at overcoming the actual limitations in this regeneration pathway by comparing somatic embryos to their counterparts in seeds (zygotic embryos).
DROUGHT STRESS REACTIONS OF POTATOES
[Translate to English:] Durch den prognostizierten Klimawandel wird es in vielen Ländern Mitteleuropas besonders im Frühjahr und Frühsommer zu ausgedehnten Trockenperioden kommen. Um Erträge zu sichern, ist es heute bereits üblich die Kartoffelkulturen zu bewässern. Daher fallen Dünge- und Bewässerungsperioden häufig zusammen, was die Gefahr einer erhöhten Stickstoffauswaschung ins Grundwasser birgt. Im Kooperationsprojekt VALPROKAR (gefördert durch die FNR. e.V.; BMEL) untersuchen wir Trockenstressantworten von Stärkekartoffeln um Mechanismen zu identifizieren, welche tolerante bzw. sensitive Genotypen unterscheiden und Biomarker zu entwickeln.
CUTTING PROPAGATION OF WOODY PLANTS
[Translate to English:] Im Rahmen von Generhaltungsmaßnahmen, die meist alte Bäume betreffen, aber auch für die Vermehrung schwer bewurzelbarer Gehölze, besteht Interesse an Forschungsarbeiten zur Adventivwurzelbildung an Stecklingen. Entscheidende Einflussfaktoren sind das physiologische Alter des Stecklings, Verletzungen, die zu Veränderungen in Phytohormongehalten und –signalketten führen und die Kulturbedingungen nach dem Stecken. Eine innovative Möglichkeit der gezielten Verletzung von Stecklingen mit genauer zellulärer Lokalisation besteht im Einsatz von Lasern, die in Kooperation mit der Hochschule Osnabrück untersucht wird.